I have realized two things lately. First that San Augustine doesn't have a county fair. I am on the hunt to find out why and to see what i can do to fix this problem. I really want to go to a county fair! Secondly, I am a member of Generation X. I guess i never really thought about it, but i am in the "older" range of the group. Not sure i really identify with Xers in most areas, but... i have looked around the Gen X quilters site and i DO identify with them. I feel like a kid around most quilters so i am very glad someone else posted in the Gen X Summer Fair Quilt Show. I have found some folks in the quilting world i can identify with!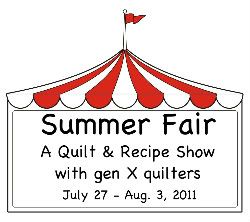 Anyways here is my post. The quilt i just recently finished is a baby quilt for the latest grandchild born Tristin Eduardo Gauge Hampton. (through my boyfriend i have 10 grandchildren, soon to be 11!) Some of the fabrics are 1930's repros, which i love, the plaids are from Ralph's old shirts. I called the quilt "Paw Paw's Lil Cowboy" because the fabrics are all fabrics you would find in cowboy shirts and we definitely plan on turning the little fella into paw paws little cowboy.
I machine quilted it, the first one that i did that wasn't straight lines across the quilt and I'm happy with how it turned out. I gave it to his momma before he was born, its now in his nursery.
Here is the little fella with his Paw Paw
and yes, his paw paw still has plenty of plaid quilts for future quilts! lol.
Recipe:
A recipe is harder. We own a restaurant and it seems i never get to cook anymore because i am cooking ALL day long. One of the dishes we make here at the store, and that the family loved before when we did cook is King Ranch Chicken, I discovered this wonderful dish when i moved to Texas... I liked this recipe because i could use fresh chicken breasts or left over chicken from the night before. The tortilla chips, its a good way to get rid of the stale ones!
King Ranch Chicken.
1 poblano pepper chopped
1 onion chopped
1 red pepper chopped
1 jalapeno chopped
1 lb of boneless skinless chicken breasts
1 can of cream of chicken soup
1 can of cream of celery soup
1 can of rotel tomatos (rotel is the brand, it is diced tomatoes and jalapeno chili's canned together)
1/2 bag of tortilla chips
2 cups cheddar cheese
in a skillet and 2 tbsp of olive oil saute the chicken. I usually add a sprinkle of cumin and chili powder as well as salt and pepper while I'm sauteing the chicken. Remove chicken when cooked through. saute the peppers and onions in the same pan, add oil as needed.
put the chicken back in the pan, add the soups and can of rotel, mix it all together to make a goop. in a 9X13 greased pan, put some goop in, crush a layer of tortilla chips, a layer of cheese. Repeat to make 3 layers ending in the cheese. Cover with foil and cook at 350 for 30 min or until bubbling. Take the foil off the last 10 min and brown the cheese. toss a handful of chopped cilantro on top if your in the mood to make it pretty!